Keynote Speakers
Prof. Georgios Theodoropoulos
Southern University of Science and Technology Computer Science and Engineering, Shenzhen, China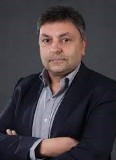 Biography: Georgios Theodoropoulos (Member, IEEE) is currently a Chair Professor in the Department of Computer Science and Engineering at SUSTech in Shenzhen, China's Silicon Valley. He joined SUSTech from Durham University in the UK, where he was the Executive Director of the Institute of Advanced Research Computing. Prior to that he held senior positions with IBM Research, Trinity College Dublin, the Nanyang Technological University in Singapore and the University of Birmingham, where he was also Director of one of the UK's National e-Science Centres. His interests and contributions are in the areas of Distributed Simulation, Complex and Multi-Agent Systems, Parallel and Distributed Computer Systems, and Data-intensive and Info-Symbiotic Systems. He is a Chartered Engineer and holds a PhD from the University of Manchester in the UK. In 2020 Professor Theodoropoulos was inducted in the World Academy of Art and Science.
Prof. Johan DEBAYLE
IET Fellow, IACSIT Fellow, IEEE Senior Member
Biography: Prof. Johan Debayle received his M.Sc., Ph.D. and Habilitation degrees in the field of image processing and analysis, in 2002, 2005 and 2012 respectively. Currently, he is a Full Professor at the Ecole Nationale Supérieure des Mines de Saint-Etienne (MINES Saint-Etienne) in France, within the SPIN Center and the LGF Laboratory, UMR CNRS 5307, where he leads the PMDM Department interested in image analysis of granular media. He is also the Deputy Director of the MORPHEA CNRS GDR 2021 Research Group. He is the Head of the Master of Science in Mathematical Imaging and Spatial Pattern Analysis (MISPA) at MINES Saint-Etienne. His research interests include image processing and analysis, pattern recognition and stochastic geometry. He published more than 170 international papers in international journals and conference proceedings. He has been invited to give a keynote talk in several international conferences. He is the General Chair of the international conferences ISIVC'2020, ICIVP'2021, ICMV'2021, ECSIA'2021, ISIVC'2022, ICPRS'2022 and served as Program committee member in several international conferences. He is Associate Editor for 6 international journals: Pattern Recognition Letters (PRL), Pattern Analysis and Applications (Springer), Journal of Electronic Imaging (SPIE), Journal of Imaging (MDPI), IET Image Processing (IET-Wiley) and Image Analysis and Stereology (ISSIA).He is a Fellow of the Institution of Engineering and Technology (IET), Fellow of the International Association for Computer Science and Information Technology, Member of the International Society for Optics and Photonics (SPIE), International Association for Pattern Recognition (IAPR), International Society for Stereology and Image Analysis (ISSIA), Senior Member of the Institute of Electrical and Electronics Engineers (IEEE) and Vice-Chair Membership of IEEE France Section.
Web: http://www.emse.fr/~debayle/
A. Prof. Dr. Pinial Khan Butt
Information Technology Centre, Sindh Agriculture Univeristy, Tandojam, Pakistani
Short Bio: Pinial Khan Butt, He is an associate professor at the Information Technology Center, Sindh Agriculture University Tando Jam, Doctoral supervisor and Postgraduate coordinator, He received his Doctor's degree in Computer Application Technology from Central South University, P. R. China, He also received a Bachelor of Law in cybersecurity from University of Sindh Pakistan. His research fields include Web engineering , Cybersecurity, E-Commerce, Telecommunication Technology and Energy Efficient Mobile Computing. He has published more than 30 technical papers in the above areas. In recent years, His research is supported by Key Project of the National Natural Science Foundation of China, National Natural Science Foundation of Hunan Province and International Science and Technology Cooperation Program of China. Dr. Pinial is a reviewer of IEEE Transactions on Industrial Informatics, IEEE Access, Future Generation Computer Systems, IEEE Internet of Things Journal, etc.

Updating......